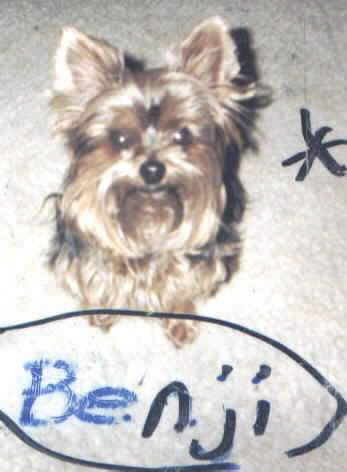 Benji Hunter English
My birthday is Feb 1st. I will be nine years old.
He's soooo cute! Our crew ten mascot.
Cared for by Yolonda Southwest Chief Crew Six.
---
Very Sad News
Los Angeles- Feb 8,2002
My little Benji passed away on February 4. I have been grieving over the loss of my little boy. He died 3 days after his birthday. My husband and I have loved and cared for him for 9 years. He's now a star in the heavens above.
Yolonda
Send your condolences to benji@crewten.com I will publish them.

---

A Tribute to Benji and more photos will be posted soon.

---
SITE INDEX:
Home Page|What's New?|Meet the crew
Former crew members
Southwest Chief Dining Car Menu|Photo tour
Gerald Pinto Indian lands tour
Engine Ride Photos
Links