Crewten.com

Gerald Pinto Native American Tour Guide presents
Tour #1
His first internet tour of the great southwest.

Indian Country tours are available:
My E-mail address:
indiancountry2002@yahoo.com


Church rock New Mexico,located east of Gallup is our entrance to Navajo lands.As we follow the Puerco River Valley.The beautiful red sandstone bluffs continue all the way to the Haystack Hills.The mesas are all part of the eastern Colorado plateau.
---
....
.
The Haystack Hills is known as the birth place of the uranium industry back in the 1950's.
Paddy Martinez,a local Navajo prospector is given credit to it's discovery. .
..................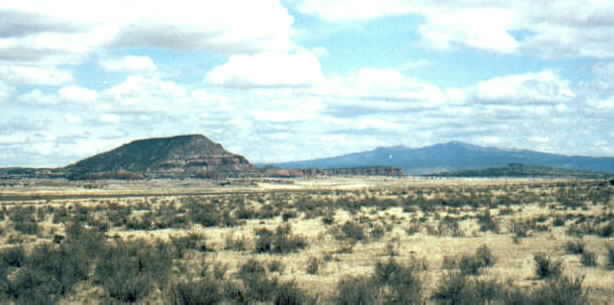 .Mount Taylor to the right with the Haystack Hills to the left as viewed from Navajo Lands.
.
Mt.Taylor was named after President Zachary Taylor,but was first known as the San Mateo mountains by early spanish settlers.Mt. Taylor is an extinct volcano which last erupted 2.5 million years ago.
Mt.Taylor is also known as one of the four sacred peaks to the Navajo."Tso'dgilth"-The blue bead mountain.
.................Mount Taylor as viewed from Acoma Lands.

---
The Santa Maria mission is located on the Acoma Pueblo reservation east of Grants N.M.It's host village
is known as Mckarty's.It was established in the early 1700's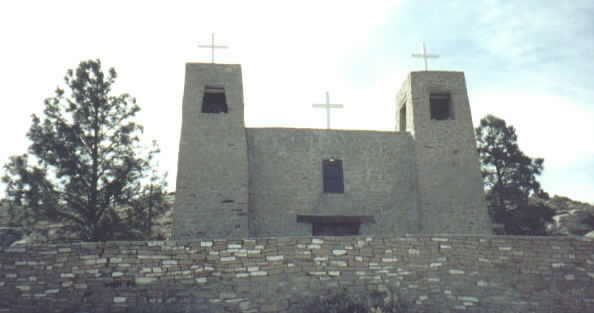 .
.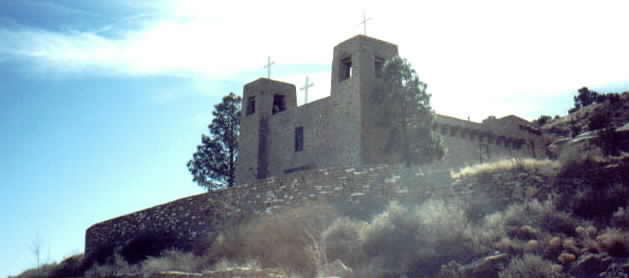 ---
The ruins of Acomita were most likely built during the early 1400's,about 2 century's after the migration
of the Anasazi from Chaco Canyon.
The site where it sits today is considered to be the halfway point between the Anasazi and Mogollan cultures.
Sitting next to the ruins are recent structures,contrasting the ages as you view them.

---
The Rio San Jose basin is located on the Laguna Pueblo reservation lands.Its basically the remnants of an ancient seashore that laid compacted sediments more than 70 million years ago,during early cretaceous.Water lines and sand dunes from an ancient beach are clearly visible from the train.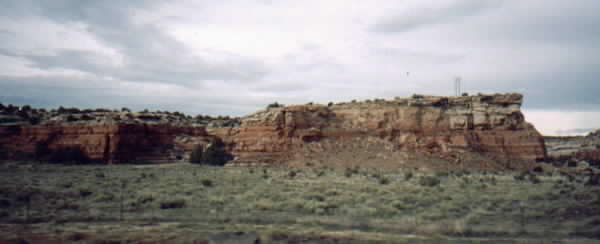 ---
Interesting shot of train #4 eastbound traveling along side of the foothills of Mt.Taylor on the Acoma Reservation lands as seen from route 66.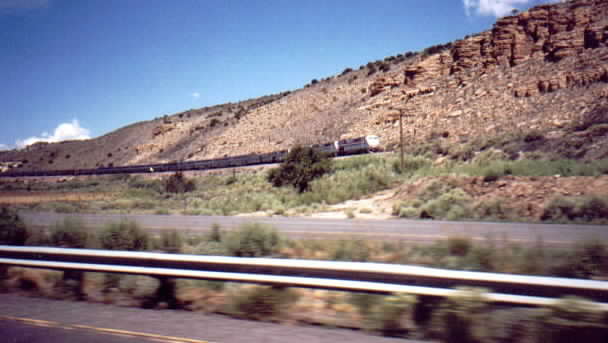 ---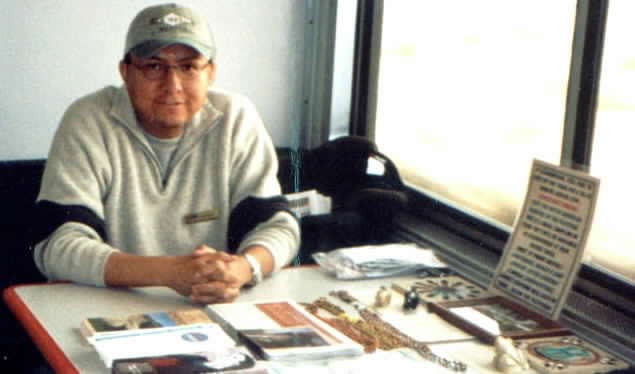 Mr.Gerald Pinto famous lndian lands tour guide aboard The Southwest Chief.
I hope you enjoyed my first ever tour given over the internet.

Indian Country Tours are available.
My E-mail address:
indiancountry2002@yahoo.com

To Tour#2Were going to climb Cabezon Peak and hike the Vermillion cliff's

If you have any questions or comments I would be pleased to receive them.indiancountry2002@yahoo.com
---
SITE INDEX
What's New
Home page
Meet the crew
Former crew members
Southwest chief dining car menu
Photo tour
Engine Cam
Links
Timetable

---

Disclaimer:
This web site is not managed, owned, operated or paid for by Amtrak.
The Official Amtrak web site for information reservations schedules and more located at Amtrak.com
Amtrak is a trademark of the (NRPC) National RailRoad Passenger Corporation.

---