Crewten
Gerald Pinto Native Americian Tour Guide Presents His
Second Internet Tour Of The Great Southwest.

Indian Country tours are available:
My E-mail address:
indiancountry2002@yahoo.com
---
INTRO
Travelling west of the Colorado river, in North central Arizona and South central Utah, takes you to a beautiful and hypnotic landscape known as the Vermilion Cliffs.On the western edge of the Colorado plateau is a vast sea of ancient sand dunes,
continuously shaped and molded by the elements of nature. Cross bedding of sand dunes from 190 million years ago have long been solidified, but in the present day, wind and varied precipitation bring out its inner beauty. These pictures are a few
examples of natures creativity.I hiked this area known as coyote buttes last spring with some friends from out of state.Tom Osborne,who is a student at Dartmouth takes credit for site navigation and one of the featured pictures. (as noted.)

---
All photos open unconstrained if you click on them.
---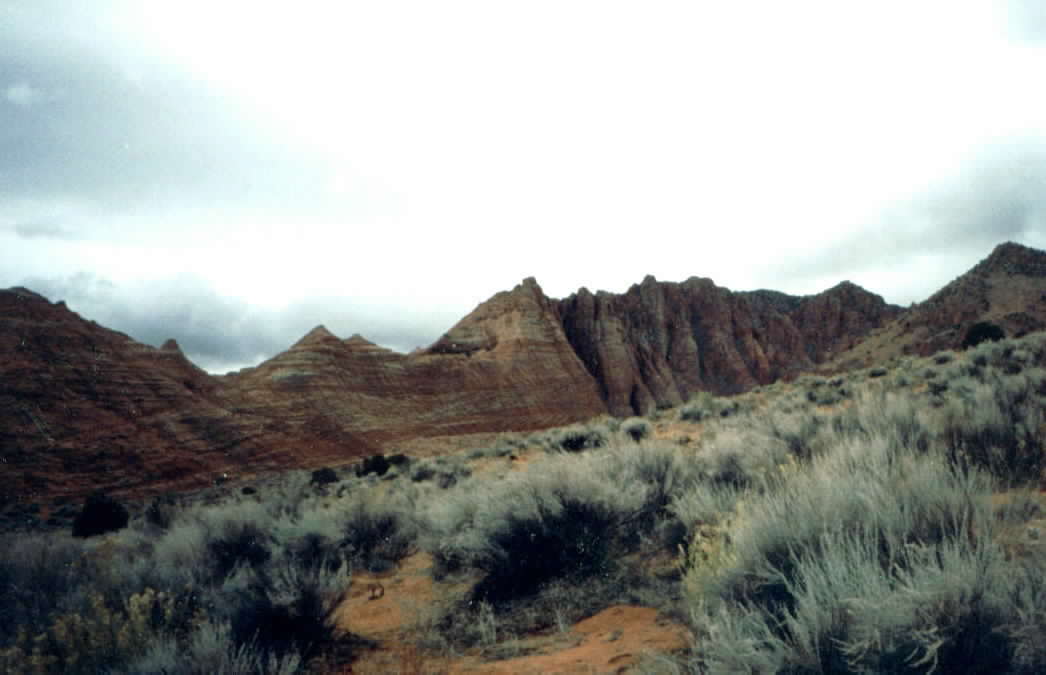 Walking east of the trailhead you begin to see some of the Navajo sandstone off in the distance.
(Coyote buttes north.) After hiking along a wash surrounded by rabbit brush and sage, the main climb
over the butte looms ahead.

---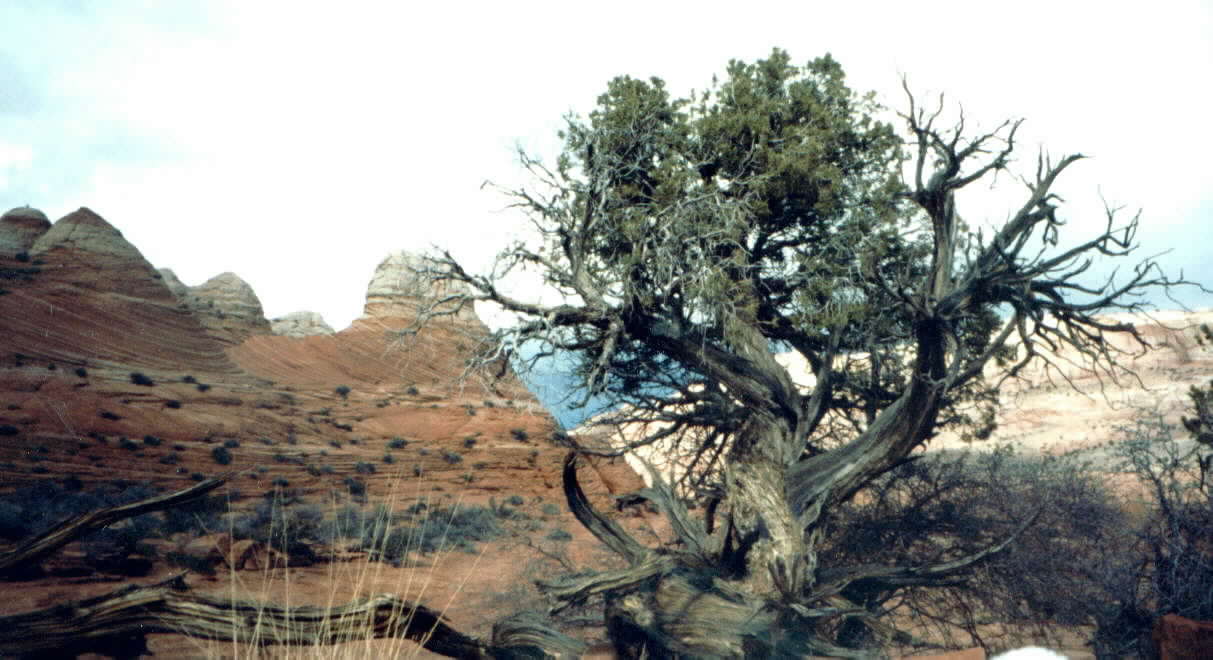 Hundred year old twisting cedars add more color to the palette. Hiking over the buttes brings
you into the main canyon full of a variety of stone towers and domes, including, Moenkopi Formation,
Chinle Formation, Moenave Formation Kayenta Formation,Navajo Sandstone, Temple Cap Sandstone, and Carmel
Formation.

---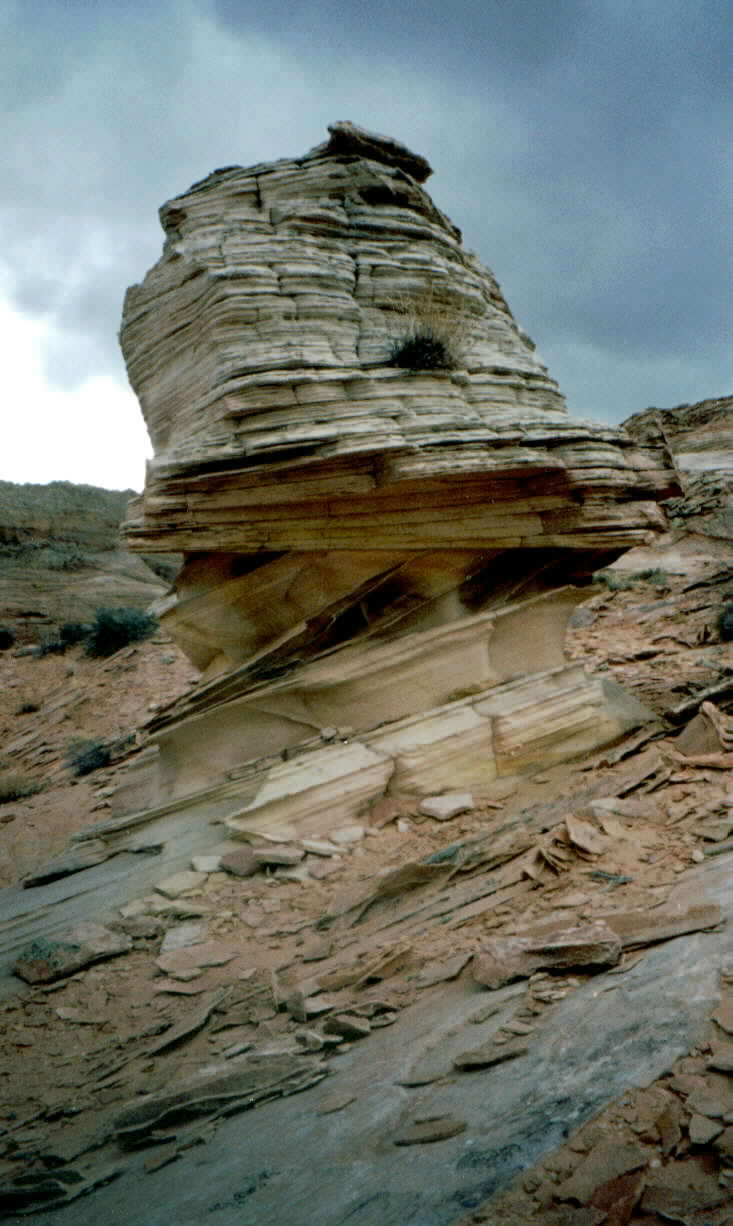 Cross stratification of sand show the ancient directions of wind movements. This separated
piece of sandstone, which has been shaped by the wind is often referred to as a "Goblin". This particular
piece stood approximately 12 feet high off the main ledge.

---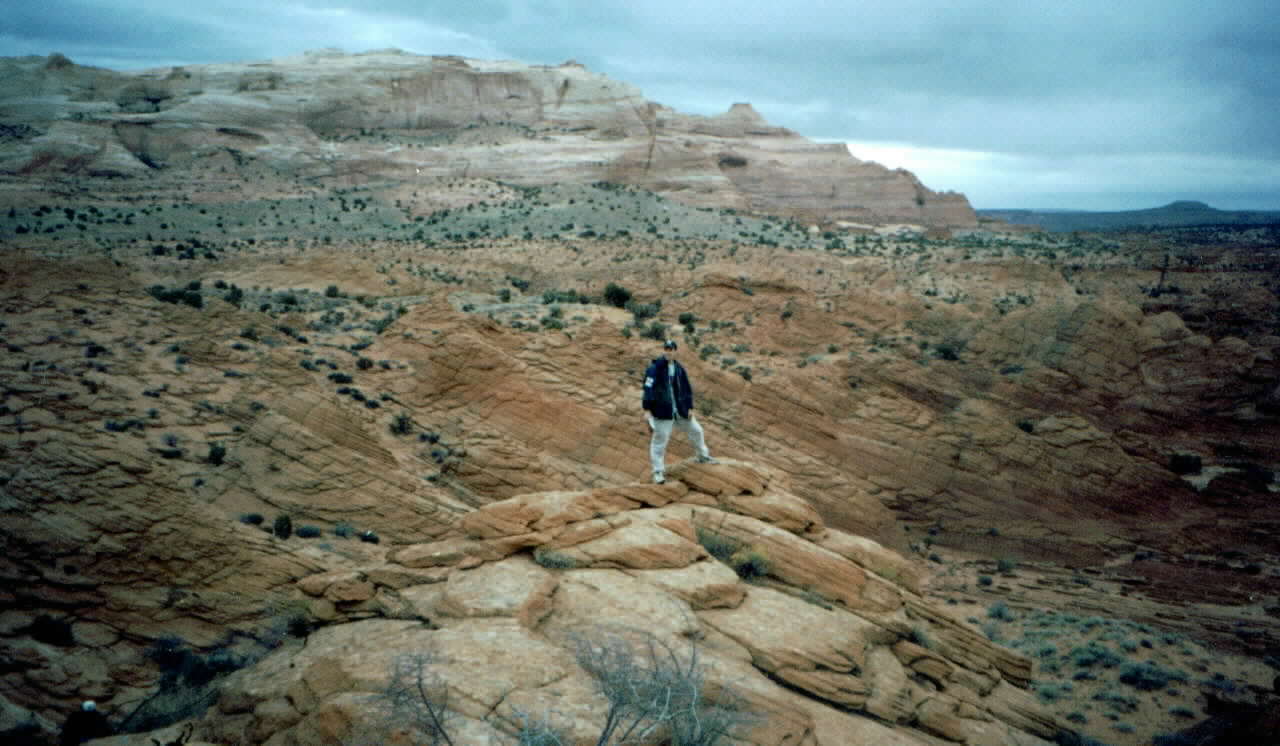 My friend Tom Osborne from New Hampshire stands atop a side ledge of Navajo sandstone. North
Coyote buttes is seen in background. (Looking northeast.)

---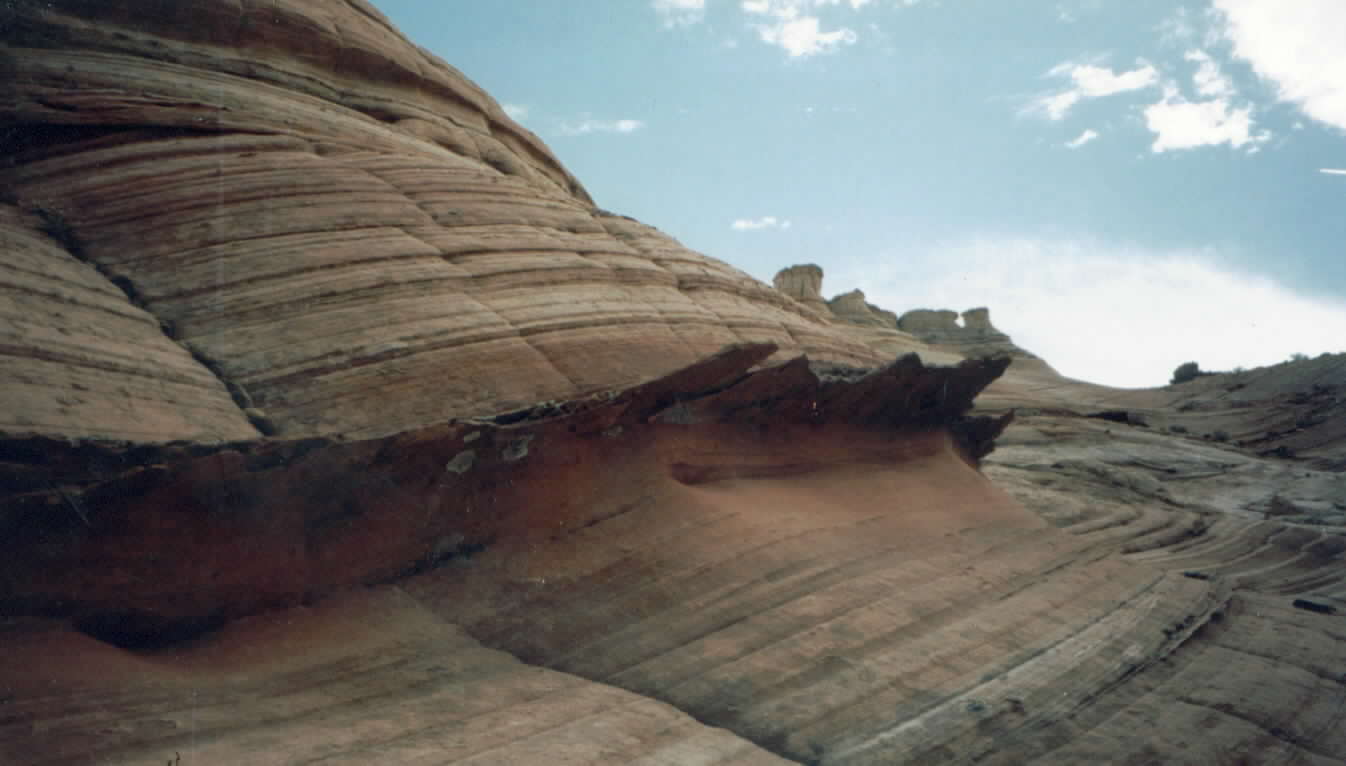 Erosion resistance of harder embedded deposits project out from the rock face like long jagged fins.
Later in time as it succumbs to gravity,these thin pieces litter the lower valley floor. The rock bits which
accumulate below are known as "mass wasting".

---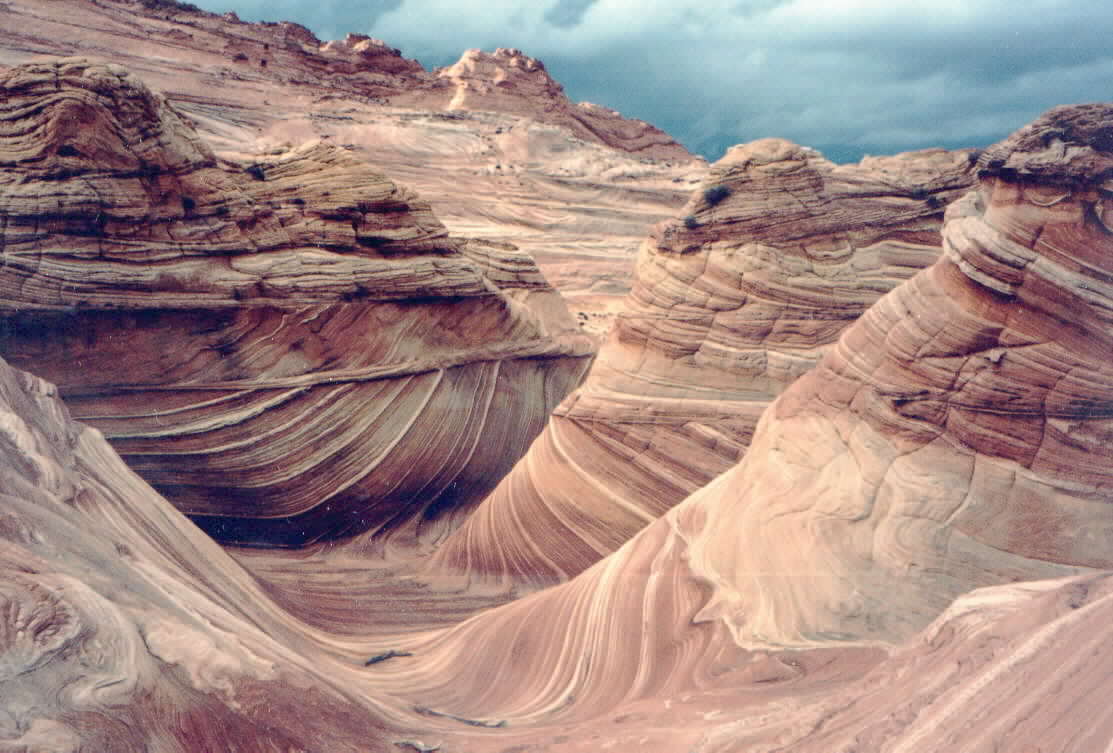 This is a panoramic view of "the wave", a reclusive, but very popular attraction in the Vermilion cliffs. This
clearly shows the diverse,cross bedding of the compacted ancient sand dunes.
Photo credit– Thomas F. Osborne

---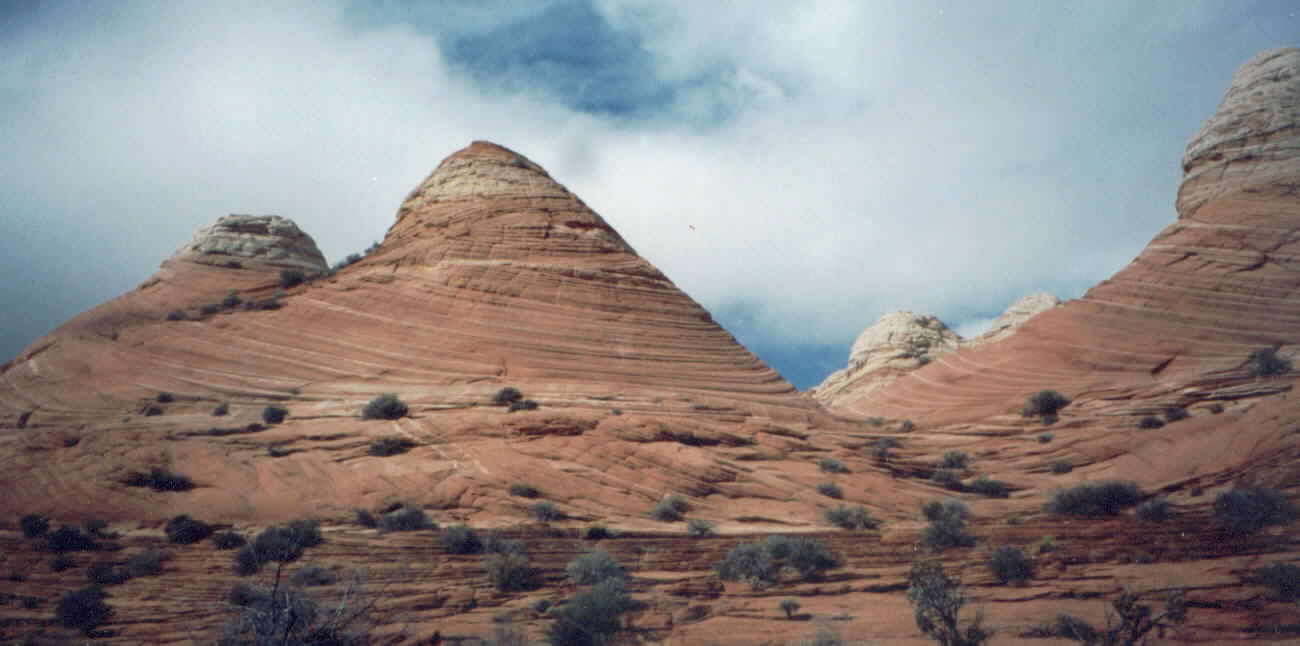 Twin butte cones show spiral effect of compacted strata. Rabbit brush and sage add a touch of green to this scene.

---

Multi colored soft boulder show different mineral composition. Iron oxides, lime deposits and shale are
represented in many areas of Pariah canyon and the Vermilion cliffs.

---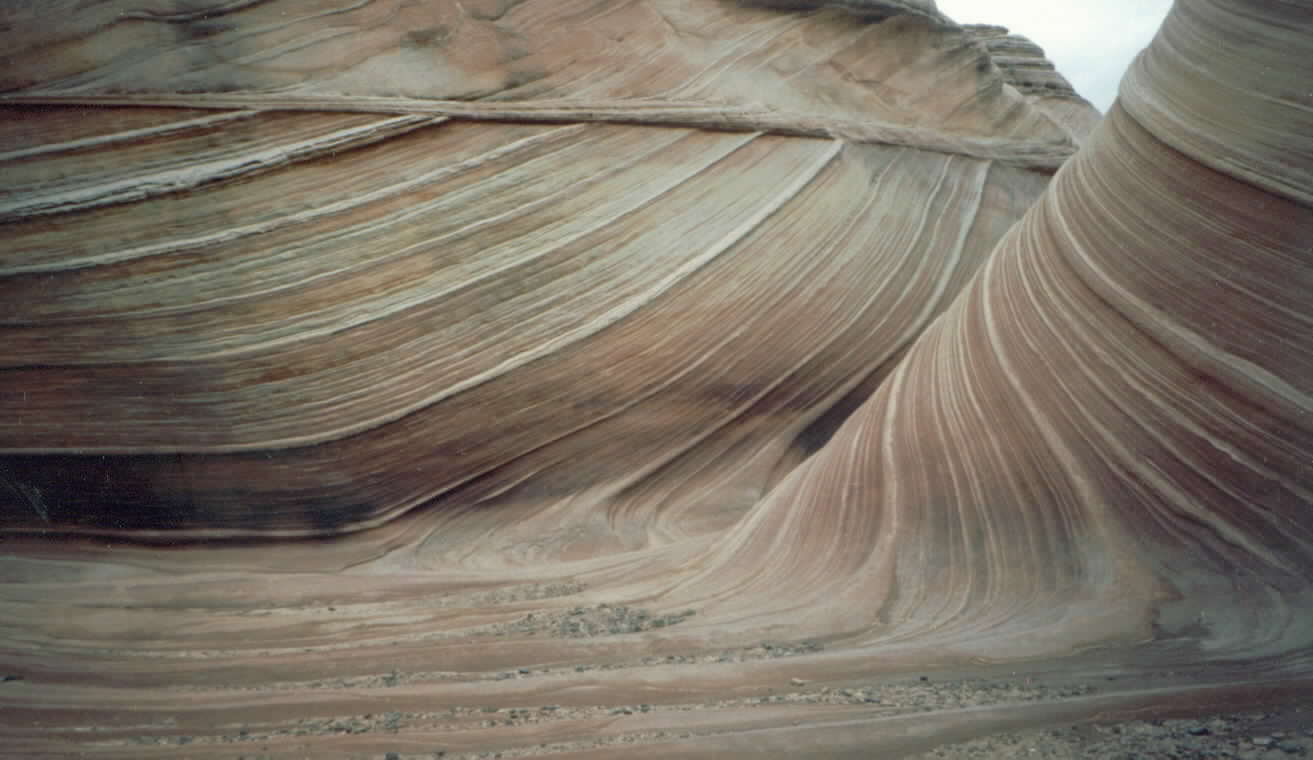 Close up view, inside "the wave". (More examples of cross stratification.)

---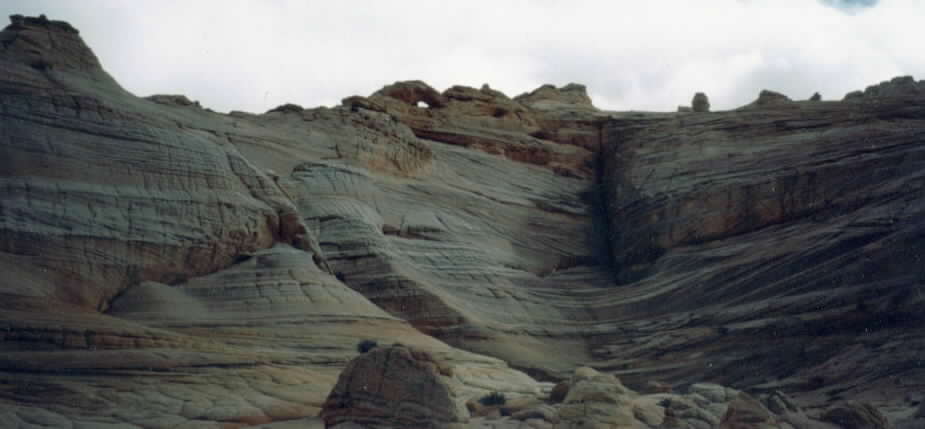 Looking up, from "the wave", a small natural bridge or window, is seen on "top rock", the central point between,
north and south coyote buttes.

---
Pariah canyon and the Vermilion cliffs was established by congressional designation on August 28, 1984 and
was recently established as protected, national park lands by President Clinton in late 2000. (Hopefully to
prevent another "Sedona".)

Although scenic, this fragile environment must be respected to ensure future appreciation. For more information
please feel free to e-mail. I will be returning to this area in late March and mid September. Permits are limited so e-mail early if
interested in full tour of "the wave". I hope you've enjoyed my new picture tour, next time we'll post pictures of the Cabezon Peak climb. Thanks...Gerald A. Pinto
.
(copyright-GAP2000)
<Used at www.crewten.com and www.crew10.com with permission of GAP 2000>

Indian Country tours are available:
My E-mail address:
indiancountry2002@yahoo.com

---
SITE INDEX
What's New?
Home Page
Meet the crew
Former crew members
Southwest chief dining car menu
Photo tour
Gerald Pinto Indian lands tour
Engine Ride Photos
Links
Timetable