Crewten.com
The Coast Starlight Photo Tour
By Mike and Rich Passengers
---
Hi, Bob:
Last year [March of '01], my friend Rich and I rode the Southwest Chief from Chicago to Barstow, CA. We met you on board, and because we were so impressed with you and Crew Ten and the Chief, I e-mailed you some photos of our trip [which are still on your website]. http://www.crewten.com/mike_tour_3_15_01.html

Rich and I rode the Coast Starlight from San Francisco to Seattle We left San Francisco [Emeryville] on August 16th,2002 arriving in Seattle on the night of the 17th,2002 and took some spectacular photos of that ride. And I'm happy to report the trip was nothing less than excellent all around.

Rich and I are are always pleased to share our Amtrak experiences on line at crewten.
:)
Best regards,
Mike Sloan

---
THE COAST STARLIGHT
Pacific Palor Car -Starlight's logo -- etched in Lucite -- used as a "room divider" in the Parlor Car. It divides the lounge area [where I was sitting in an overstuffed swivel chair] from the tables where people played board games, and could have light snacks and beverages.
---
"Rich relaxes in one of the Parlor car's comfortable easy chairs. Those
two words -- comfortable and easy -- describe the quality of life aboard the
Starlight."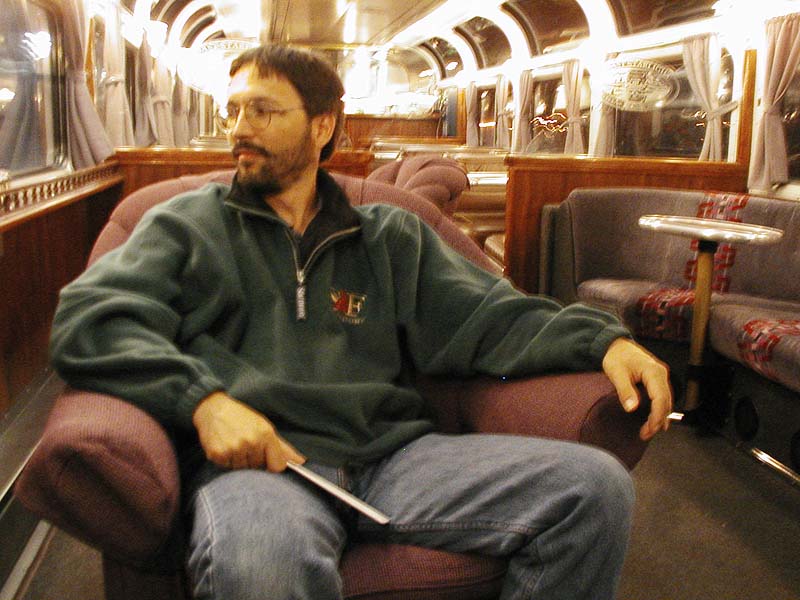 ---
Here's one experience that amazed me:
There is an excellent wine-tasting held aboard the Starlight.
It also includes a variety of crackers and cheeses to be sampled from
a buffet-style bar. All the passengers had to do was add good companionship
and "mix."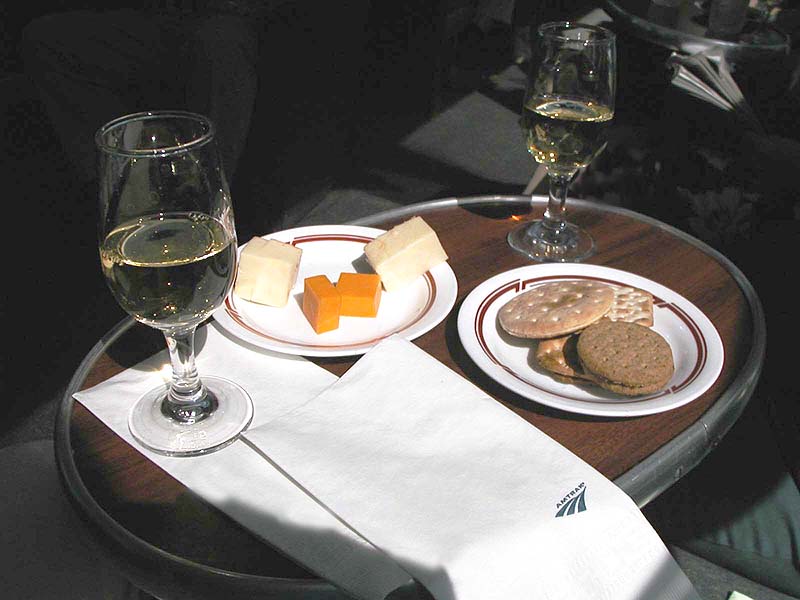 ---
This is one from the dining car going through the Klamath Mountains early in the morning. You can just about see a menu propped up against the window, and outside is a view of the front of the train and the mists of early morning on the mountainside.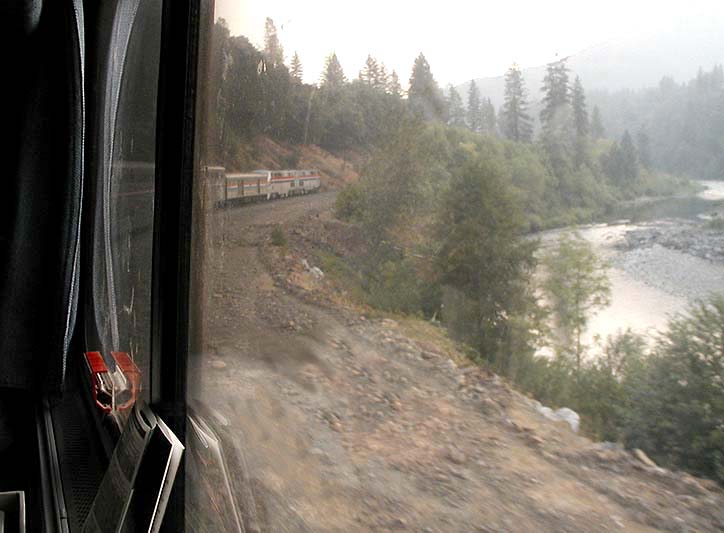 ---
Mount Shasta, in northern California, looks almost ghost-like
in the early morning light.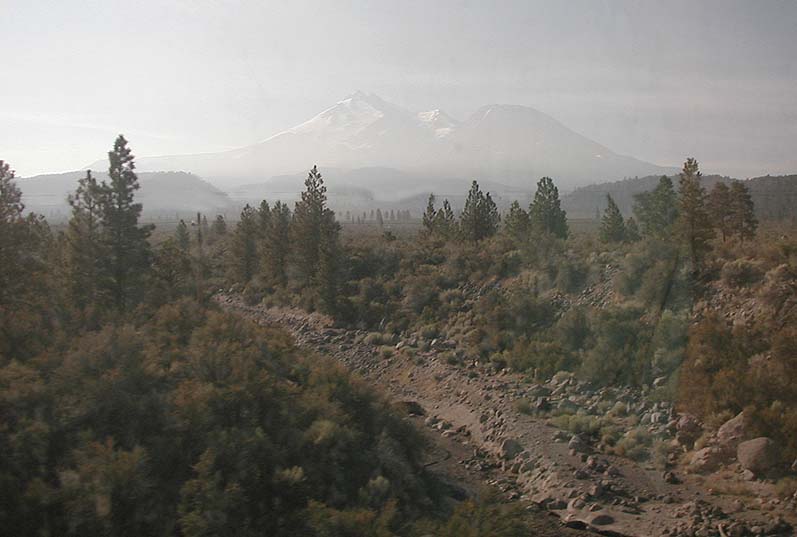 ---
This photo makes an excellent wallpaper or background for your desk top
---
No trip on an Amtrak long-distance train is complete without
sampling the excellent meal service. Here, breakfast awaits . . . served
on porcelain dishes, complete with metal flatware, linen table cloth, and
fresh-cut flowers. An all-around elegant experience, proving that
certain great restaurants are on wheels! Talk about a "movable feast." :)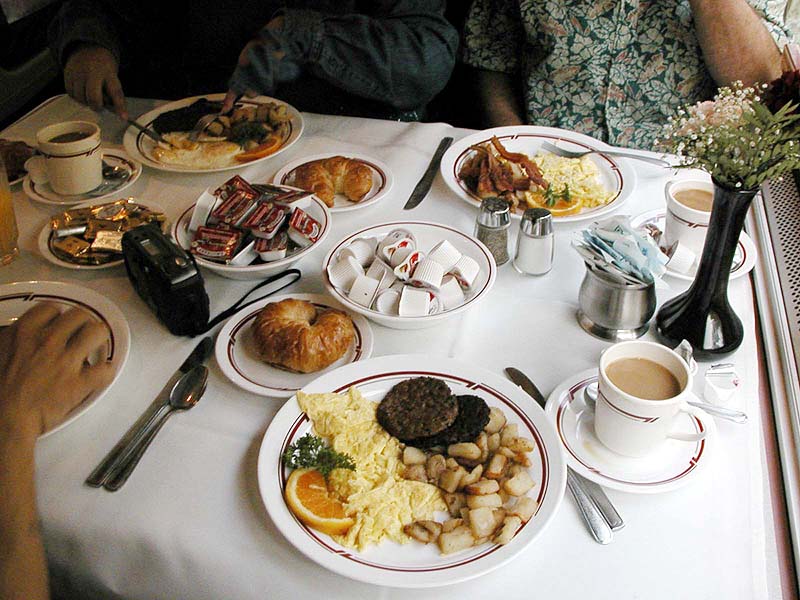 ---
This is the Klamath Falls, OR, station/stretch break. We had the chance to
walk up front, speak with the engineer, and admire the artistry and power of
the locomotive units.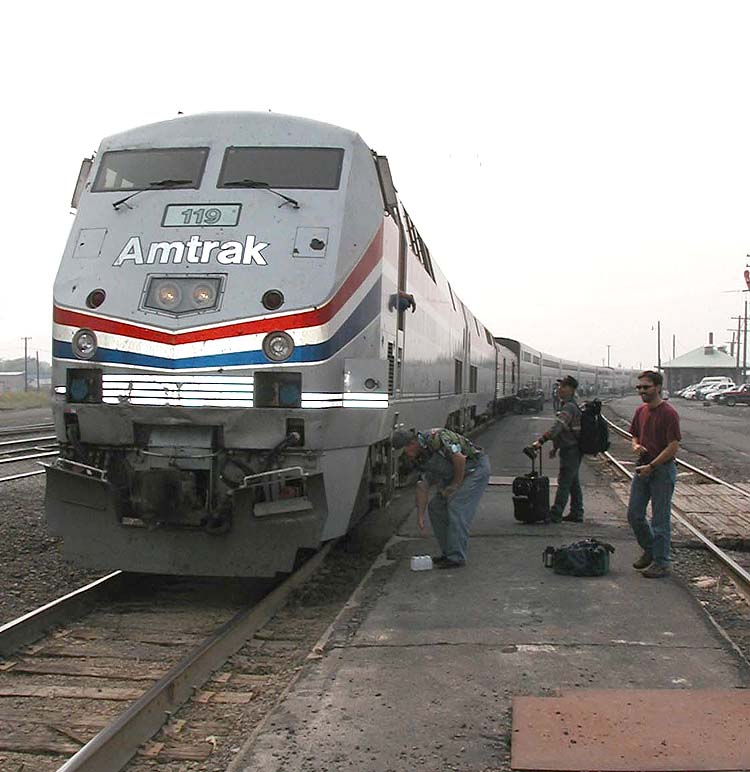 ---
Other Photo Tours from Mike
Mike and Rich Southwest Chief Photo Tour
Mike New Acela Photo Tour
Mike rides the Downeaster
---
Site Index
What's New?
Home Page
Meet the crew
Former crew members
Southwest chief dining car menu
Photo tour
Gerald Pinto Indian lands tour
Engine Ride Photos
Links
Timetable
---
Disclaimer:
This web site is not managed, owned, operated or paid for by Amtrak.
The Official Amtrak web site for information reservations schedules and more located at Amtrak.com
Amtrak and Superliner are trademarks of the (NRPC) National RailRoad Passenger Corporation.
---